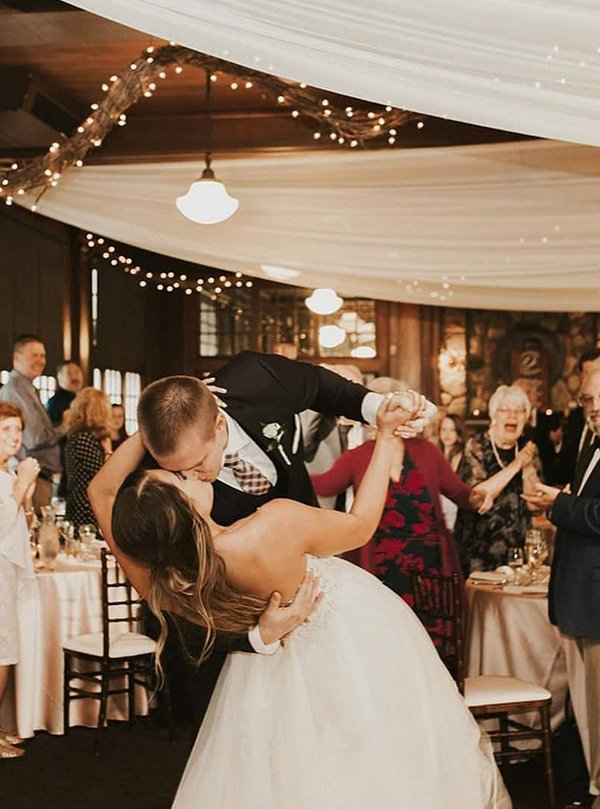 MICHIGAN'S FINEST
DJ SERVICES
At Bash Entertainment, we specialize in crafting the perfect atmosphere, vibe, and flow for your BIG DAY. With a commitment to exceptional service, we work closely with you and your event staff to ensure every detail is meticulously planned and executed. Through multiple planning sessions, we curate a custom playlist that complements each moment of your wonderful day, providing the music that sets the desired tone and ambiance. Whether you envision a relaxed or rustic feel, our expertise allows us to bring any vision to life. Understanding the significance of music as a backdrop to your event, we take great care to ensure the vibe is always just right, creating an unforgettable experience for you and your guests on your special day.
CHECK OUT OUR PACKAGE OPTIONS
At Bash Entertainment, we take pride in providing a wide range of package options tailored for large and small weddings and special events of any size. Our diverse selection ensures something suitable for everyone's preferences and budget. However, we understand that each event is unique, and our commitment to exceptional customer service means that we are more than willing to work with our clients to create a custom package that perfectly aligns with their specific needs and desires. So, if you don't find a package that works for you, please don't hesitate to contact us, and together, we'll craft the ideal package to make your event truly unforgettable.
6 Hours DJ/MC Service
Premium Sound System
Dance Lighting
Personal Planning Portal
7 Hours DJ/MC Service
Ceremony Music/Mics
Premium Sound System
Dance Lighting
16x Up-lighting 
Personal Planning Portal
8 Hours of DJ/MC Service
Ceremony Music/Mics
Premium Sound System
Dance Lighting
Personal Planning Portal
16 x Wireless Up-Lighting 
Audio Guest Book or Monogram
5-Hour Selfie Station with Props
HURRY UP! LET'S GET STARTED.
CHAT, IMAGINE, AND PLAN WITH BASH
LETS MAKE YOUR NIGHT ONE TO REMEMBER - ENHANCE IT!
We have everything you would ever need to make your event Amazing and Memorable no matter the occasion. If you don't see what you are looking for, just ask us during your meeting and we would be more than happy to try and make your dreams happen.
Welcome to Bash Entertainment, your ultimate DJ service, where our seasoned professionals bring a wealth of experience to every event we touch. With a perfect blend of expertise and passion for creating unforgettable moments, we're here to make your special occasion extraordinary.
Drawing from years of industry knowledge, we've mastered the intricacies of the special event and wedding industries. Our deep understanding allows us to craft customized music and mesmerizing light displays that will leave a lasting impression on your guests, turning your event into a cherished memory for everyone present.
At Bash Entertainment, we believe in the power of personalization. We work closely with you to understand your vision, preferences, and event objectives, ensuring that our DJ services perfectly complement the atmosphere you want to create. With a vast collection of music spanning various genres and eras, we can curate a playlist that resonates with your unique style and keeps the dance floor alive throughout the celebration.
As the heartbeat of your event, we take immense pride in our role as both DJs and memory makers. We're not just there to play music but to bring joy, energy, and excitement to your special day, ensuring that it becomes an unforgettable celebration that your guests will discuss for years.
So, whether planning an intimate gathering or a grand gala, Bash Entertainment is your partner in creating an unforgettable experience. Let us elevate your event to new heights and make your dream celebration a reality. Get in touch with us today, and let the music and magic begin!
Planning an event can be stressful, especially when dealing with multiple vendors. Our goal is to make your event planning process as smooth and hassle-free as possible with our comprehensive packages. Whether you're organizing a big or small event, we have carefully curated packages catering to your needs. These packages can include a wide range of services, such as lighting, videography, and photo booth rental, to ensure your event is memorable.
By opting for our complete packages, you can enjoy the following benefits:
Simplified Planning: No need to coordinate with multiple vendors; we take care of all the details and ensure a seamless experience.

Customized Options: We understand that every event is unique, and our packages can be tailored to suit your preferences and budget.

Professional Services: Our team of experts is skilled in their respective fields, ensuring top-notch services for your event.

Stress Reduction: Let us handle the logistics and technicalities, giving you more time to focus on enjoying the event and making lasting memories.

Cost-Effectiveness: Our packages offer competitive pricing, consolidating various services to save you money compared to booking each service separately.

Quality Assurance: With our trusted vendors and partners, we guarantee the highest quality standard in every aspect of your event.
Whether it's a wedding, corporate event, birthday party, or any other special occasion, our complete packages are designed to cater to your needs. Please get in touch with us, and let's make your event planning process an enjoyable and successful experience.
As a wedding videographer, I've worked with many DJ's over the years. No one gets your dance floor packed like Bash Entertainment!
Sean Wendt — Videographer
My night was so stunning and enjoyable thanks to all the hard work and customization Shawn and his team put into our wedding!
Coty Hough — Wedding Client
Bash was awesome at our wedding this weekend! the dance floor was packed all night! Highly recommend Bash Entertainment!
Caerusnet Referral Teams — Corporate Event
LEARN MORE ABOUT
THE BASH TEAM
All of our DJs always have music on their mind. When it comes to hiring DJs, we find the most naturally talented and entertaining individuals. Our kind, curteous, and professionally trained DJs are always reading the crowd as soon as they walk into the room to ensure non-stop dancing all night long.
INTERESTED? GIVE BASH A SHOUT!